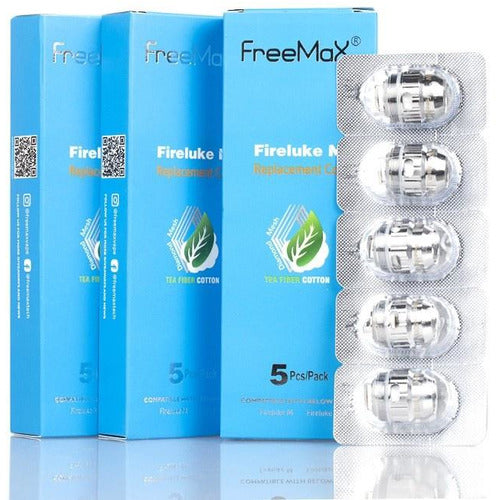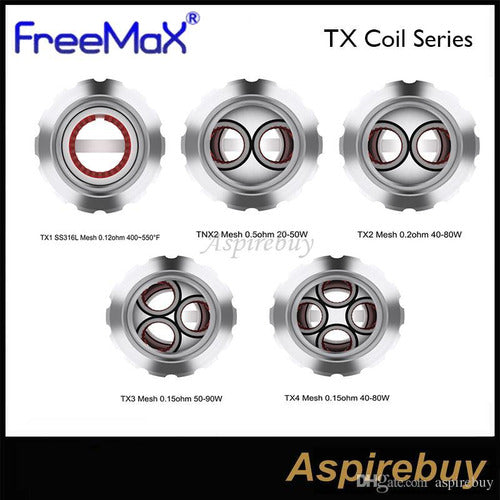 FREEMAX TX MESH COILS 5/PK
These TX Mesh coils come in a 5-pack, and feature FreeMax's patented Tea Fiber Cotton wicking material as well as multi-layered diamond-cut Kanthal mesh coil designs for improved taste, vapor, and coil longevity. FreeMax's tea fiber cotton wicking material is made up of 90% Tea Fiber Cotton and 10% Organic Cotton. This affords the FreeMax TX Mesh coils an average lifespan of about two to three weeks depending on the makeup of your eliquid and the level of usage.
Coil Compatibility: These TX Mesh Coils are only compatible with the Fireluke M (Fireluke Mesh) Tank & Fireluke 2 Sub-Ohm Tank. These coils are NOT compatible with the original Fireluke, Fireluke Pro, nor the FreeMax M Pro (FreeMax Mesh Pro) Tank.
Specifications:
 FreeMax TX1 Single Mesh Coils
 0.15 ohm resistance Single Mesh Coil
Recommended Wattage: 40W - 90W
FreeMax TX2 Double Mesh Coils
 0.2 ohm resistance Double Mesh Coil
Recommended Wattage: 40W - 80W
FreeMax TX3 Triple Mesh Coils
 0.15 ohm resistance Triple Mesh Coil
Recommended Wattage: 50W - 90W